We all love AirPods because they make our lives so much easier. But they are not completely without problems. Have you ever experienced that awful situation where you've been enjoying a song but something does not sound quite right and when you investigate, you find that one of your AirPods is quieter than the other? There are many people who are experiencing the same problem. Why is one AirPod louder than the other? 
It destroys the whole experience and possibly had you worried that your AirPods have broken. But if the sound is getting through, then they are not probably broken and troubleshooting that problem is quite easy.
So don't worry, we will find out how to fix that problem together so you can go back to enjoying your favorite entertainment the way you intend to do.
One of my AirPods is quieter than the other. How do I fix it?
The following are some simple steps to fix the problems with your AirPods and you can do all of them very easily and by yourself. Also if you are thinking "why are my AirPods so quiet" you will probably find that following these steps you can fix that problem as well.
READ ALSO: How do I fix the "can't establish a secure connection" problem?
Clean both your AirPods and the Charging Case
If there is a problem with one AirPod, the first thing you should do is to clean the AirPods and the charging case thoroughly because there might be dust or something like that, that can affect the hardware of your AirPods, or block the speakers or block the charging pins and cause one of the AirPods to charge less. However, you have to follow a smooth procedure if you are cleaning the AirPods and the case. This is how you do it.
You have to choose a soft piece of cloth. Try something that is lint-free. Don't use something that will break or leave fiber inside the device. 

Wipe down the AirPods and the case methodically and smoothly. You can also use an anti-static brush or a new toothbrush to do this but always remember to be careful and not to let fibers from the brush fall off inside. 

Cleaning your AirPods and the case frequently prevents damage. Also, do not keep the devices in an atmosphere with high humidity or moisture. 
Check if the Audio Balance is off  – One of the key reasons behind why is one airpod louder than the other.
Another reason why one AirPod quieter than the other, is that when the sound balance is off and one side is set to sound louder. You can easily fix this problem by navigating through the following settings.
Open

Settings

on your mobile phone and go to

Accessibility. 

Choose the

Audio/Visual

tab and there you can edit your audio settings and set the audio balance to normal by dragging the slider. Once you set it in the center, both the earbuds will sound equal.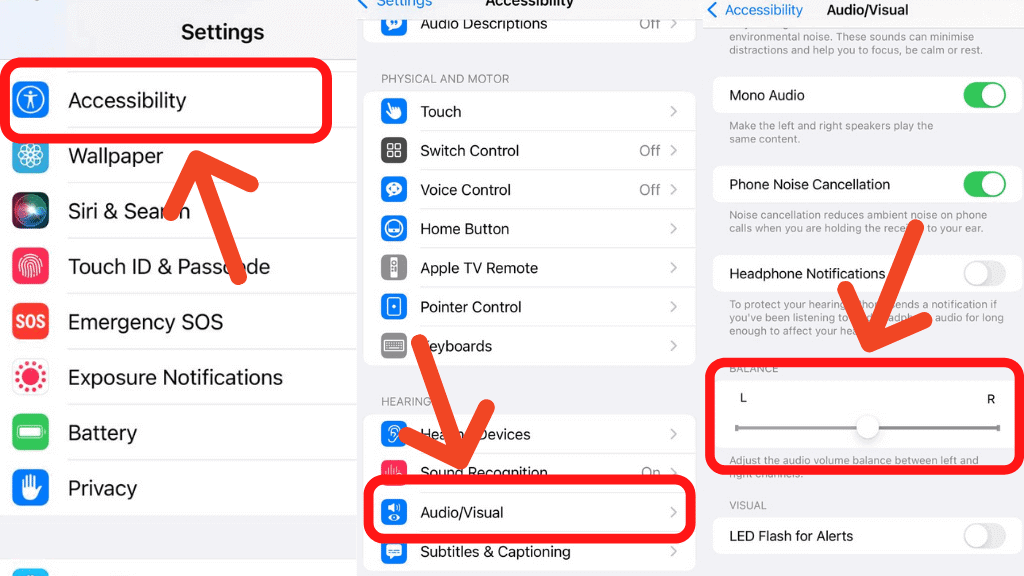 Read Also: IMS Service has stopped? – How to fix it!
Thinking about why is one AirPod louder than the other? – Just restart your mobile phone.
Restarting your mobile phone can fix many minor glitches and errors in your phone more often. If you are experiencing an issue like right AirPod quieter than left or vice versa, just restart your phone real quick and see if it fixes the problem. Here is how you do it.
Hold down the power on/off butt

on of your phone until the menu appears on your phone.

Choose either

Restart or Power off options and let the mobile turn off.

If you chose the Restart option, the phone will automatically turn on again. 

If you chose the power off button, then you will have to turn on the phone again manually by pressing down the power button until the phone light up or you feel a vibration.
This is how you can restart your mobile phone using the power button. But things always don't go according to plan and you might have a broken power button. So if that is the case, here is how your restart your phone. There are two ways you can go about it.
1st way
Navigate to 

Settings

 on your phone and click on 

General

.

At the bottom of the list, there is a button called

Shut Down.

By clicking on that you can turn off your phone.




Then, to turn your phone on again, connect the mobile phone to a lightning cable and plug it into a power source.
2nd Way
Navigate through the following path.
Settings 🡪 General 🡪 Accessibility 🡪 Assistive Touch
Then the Assistive Touch button will appear on your display. Tap on it and follow the directions mentioned below.
Device 🡪 More 🡪 Restart
Confirm the restarting process by clicking Restart again. 
This is how you can restart your mobile phone and hopefully, it will fix the problem of your problem of left AirPod quieter than right or vice versa.
ALSO READ: why does YouTube keep pausing?
Resetting your AirPods
Just like restarting your mobile phone fixes many minor issues, resetting the AirPods can also fix many small issues associated with AirPods. This may feel like a very trivial step to take and maybe you are thinking of ignoring it but rather than worrying thinking "one of my AirPods is quieter than the other" let's just do this simple task and see.
Place both your AirPods in the charging case.

Then, hold down the setup button on the charging case. You can find this button in the back of the case.

The lights will start flashing red and then white. Release the hold when that happens.
That is the simple process of resetting your AirPods and it gives your AirPods a fresh start. You can then connect them back to your device.
Worried why is one airpod louder than the other? – Reset the Phone Settings.
Wrongly configured settings can give your iPhones various errors, so restoring all the settings back to factory settings can solve problems with your iPhone and AirPods. 
Open the

Settings

app on your phone and go to

General

settings.

Scroll down and you will find

the

Reset

button and tap on it.

Tap on the

Reset All Settings

option and you will be asked to enter your passcode.

After entering the passcode, tap on

Reset All Settings option and confirm it.

A progress bar telling how far complete is the resetting will appear on the screen. After the resetting is completed, the device will restart.
These are the ways you can fix the problems with AirPods by yourself. If you want to seek professional help with this problem, you can try visiting the Genius Bar in Apple Store or using Apple's Mail-In repair service. 
The above steps are the solution to the question "how to make AirPods louder too. We hope this article helped you fix your problem. Enjoy your entertainment experience with fully balanced sounds!!
       Related: Why won't my Air Pods charge?