Today we hope to share some helpful information about another social media app. It is no other than the famous "Insta" or the "Instagram." Today's discussion is about a common concern that most of us have regarding messages. Most users do not know how to delete Instagram messages from both sides. 
So we thought we must enlighten you about this matter!
How to delete Instagram
messages?- How to delete messages on Instagram from both sides?
Deleting the messages you sent to someone is your personal choice and wish. It may be unwanted, maybe a mistake, and there could be many more reasons for you to delete the messages you sent. But doing it properly is the concern right now! 
Deleting Instagram messages is not magic. 
It is a few simple steps ahead. It is nothing to worry about once you get hold of them correctly. The good thing is the same as Instagram's feature of sending private messages. It helps you to delete the message privately as well.
There are two methods available for those who are looking for how to delete messages on Instagram from both sides. 
One option is to 

unsend Instagram messages

.

The next is deleting the entire conversation. 
Let us see how you can do both of these options. Believe us; both these options are much easier than you think!
RELATED ARTICLE: How to know if someone restricted you on Instagram?
Unsending the Insta messages
This option works well if you need to unsend the message to everyone in the chat. What you need to do is simple.
Open your Insta app and find the message you need to send. Then hold your finger on the news, and you will get the option" unsend."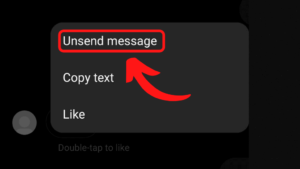 Then, you will get a pop-up with some options. You may select and confirm the unsend choice. Tada! The message is deleted!
This option works well on Android and the iOS phone and remembers that this will delete the message for all the people in the chat group.
ALSO SEE: How To Fix "Couldn't establish a secure connection"?
Deleting the entire conversation
It is another way you could follow if you need to delete the entire list of messages. The steps are pretty simple.
Deleting the whole chat in one clean sweep is a great opportunity. Following this method means you will only have to repeat the deleting once per conversation, not by selecting every message. It can be monotonous but believe us, it is more convenient than deleting one letter at a time.
Below are the steps you can easily follow to delete an entire conversation: 
 Click the inbox button at the top-right corner of your Instagram home screen.

Select the conversation that you need to delete. 

 Press on the chat and select and confirm Delete.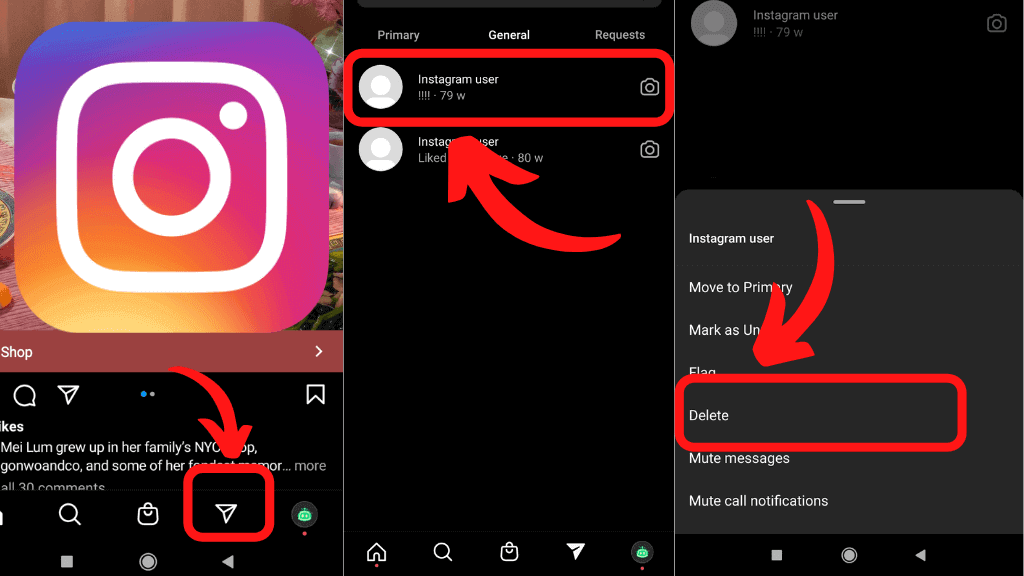 These actions make the conversation deleted from your inbox. But, keep in mind that the other person still has access to the entire conversation. You cannot delete their messages through this process, just yours!
If you intend to clear your inbox of unwanted or expired conversations, you can use the search function and select the conversations you need to delete. You do not need to scroll down and look for the discussion in your inbox. You can find the person's name in the search bar and find the conversation you need to delete.
READ ALSO: What is Facebook Katana?
Deleting all the messages from a single person 
If you are looking at how to delete DMS on Instagram, let us explain the easiest way to delete all the messages from s single person. 
Let us see if you can delete all the direct messages from a single person and delete all their copy of the letters. Surprisingly the step might be too harsh as the only way to do so is to block them. So, it would help if you decided before taking this action carefully. 
Blocking the person you are chatting with is the only possible way to make the messages between you and that person disappear. 
Following this step is ironically quick and easy. It would be good to go to the person's profile you wish to block, tap on the three dots at the top-right side of the screen, then tap and stop.
Apart from deleting all the messages shared, this method also deletes the likes and comments from the particular person. Blocking a person on Instagram is the same as blocking users on Facebook. Blocking means not having to do anything with them anymore. So, you need to decide after thinking through if you want to delete all messages with this person that you want to cut ties with and do not want them to contact you again. It is pretty harsh, but it is the only way to follow.
Why is my phone dying on the charger?Here are the reasons behind
How to delete the messages at the same time you send them?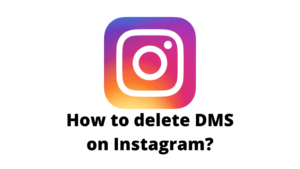 Though you can already use Instagram for messaging, the app is not designed for direct messages. The pure reason for managing your DM inbox is pretty much a hassle and not easy and smooth as you handle the messaging process on Facebook.
We know exactly how you feel when you see your inbox cluttered with all the messages from friends and family. Cleaning it will be a pain in the neck. If you are thinking about how to delete DMS on Instagram, unfortunately, Instagram does not have the luxury of deleting messages as quickly as Facebook or WhatsApp.
SEE ALSO : Can you see who saved your Instagram post?
How to delete an Instagram
message from both sides?
So far, we have discussed how to delete entire conversations from your end and delete the whole discussion for both ends. However, if your concern isn't with the entire conversation but just some of the messages, here is how you can easily manage the situation.
Below are a few easy steps that you can take to unsend a message on Instagram. To begin with, you'll need to follow the down straightforward steps.
Tap open the Instagram app on your Android or IOS smartphone. From the Home tab, please get to the message

 

icon on the top-right corner of your screen and tap on it to open your direct messages. Then, you'll see all your conversations in chronological order. To find the conversation you need to delete, you can either scroll through this list or search for the usernames in the search bar displayed on top.

You may Tap on this conversation to view it on full screen. Scroll up to get the individual message that you need to delete.

When you find the needed message, long-press on it, you get a range of emojis appearing right above to react. You can find three buttons at the end of your screen: Reply, Unsend

, 

and More. Select Unsend and confirm!
So dear readers, we hope you now know how to delete Instagram chat quickly. So make sure to think twice and decide that you cannot get it back once you delete the messages!
ALSO READ : How To Fix Message blocking is active?