Messenger App is one of the most used apps many of us use to connect with our loved ones. It is very familiar, especially if you are a regular user of Facebook, as Messenger is the messaging application of Facebook. Same as other apps, we also face different issues with Messenger. So today, we wish to share some knowledge on this aspect which we think will be helpful for all the users and non-users of Facebook. This Person is unavailable on Messenger is a common issue found in this app. Let us find out the reasons and how to manage it. 
But before that, we thought it would be ideal to share some knowledge on how Messenger operates.
Messenger as a messaging app – Prior to discussing the technical error, this person is unavailable on Messenger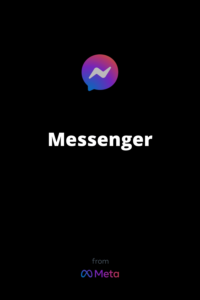 Like WhatsApp and Skype, Messenger has also become very popular as it is straightforward. Messager though you see it on Facebook, is a different app. These two are two other applications. 
Facebook Messenger is a toll-free mobile messaging application used for quick messaging, sharing photos, videos, and audio recordings, and it can form group chats. The app is free to download. You can communicate with your friends on Facebook and your phone contacts. The critical thing is Facebook and Messenger have to be downloaded separately. Facebook has been a more convenient place because the messaging app connects everyone very quickly.
READ ALSO: How to know if someone restricted you on Instagram?
Functions of Messenger
If you are interested in knowing the functions of the messenger application, below are some of them.
Messenger allows you to talk to anyone you want directly through the messages. It is simply a series of chat messages. You can either chat individually or create a group chat. This feature is very similar to the technology followed in vibe or WhatsApp.

You can easily share the images and videos with your friends and family. Like the other social media messaging apps, Messenger also offers the luxury of sharing pictures, which is why this application gets popular.

You can get a group call very conveniently and talk about any topic freely. It is one of the added advantages that most youngsters like the app so much.

Same as WhatsApp, you can record a message and send it to the other party as a voice message. It allows the sender to express the ideas very descriptively, and it is the most convenient thing for a person who hates typing or is busy.

The other fantastic thing about this application is its video calling facility. The younger audience loves it as it creates a perfect platform for friends to meet you. The most exciting thing is the individual video calling and the chat room facility with multiple people participating.
Due to these features, Messager can still compete with all the most loved social media communication apps. 
SEE ALSO: What is the mcm client?
How does Messenger work?
The user can download the app to their mobile device, tablet, phone, or Android phone. The good thing is that you can also download the app on a laptop or desktop. You can also set up Messenger using your Facebook account or mobile number. This ability makes it more convenient for the user to get Messager onto the device you use. If you need to create an account with your Facebook profile, Messenger automatically takes the necessary information from your Facebook profile. The report includes a profile pic, a list of friends, etc. once the account is set up, you automatically get connected with the friends in your Facebook profile. Sometimes Messager suggests other friends that you may find interested in joining with.
Faults of Messenger
Same as other applications, Messenger also has defaults of its own. "Facebook Messager is down," Facebook Messager is not working are some of the common errors we find in this application. But apart from that, one of the most noted errors is "this person is not available on messenger." So many people come across this error and find it challenging to get the issue sorted. Well, let us be of some help!
READ ALSO: How to delete messages on Instagram from both sides?
What does "This person is unavailable on Messenger mean"?
You might have seen this issue many times. 
But do you know why? 
Let us find out the reason. 
Why does it say This person is unavailable on Messenger?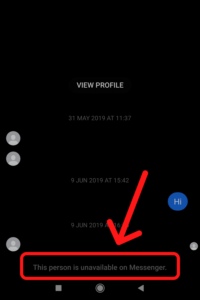 It could be because the person you are trying to connect with is not available on the messenger app. Also, this person may have deactivated or deleted the messenger application. If it is the case, you might not be able to connect or even see him on Messenger. Another reason could be that the person you are trying to communicate with might has blocked you on Facebook. And in some rare cases, an app bug might be the reason for this situation.
So below are a few of the principal reasons that we have found related to the issue:
The recipient must have deleted the account.

The recipient must have deactivated his Facebook account.

You could be blocked by the person you are trying to contact.

The recipient must have deleted the conversation permanently.

Facebook authority can always ban the recipient's accounts for some reason.

Temporary bug being activated.
We hope you have learned why it says This person is unavailable on Messenger.
ALSO SEE: Why do you get called from Unlocated numbers?
How can you fix the issue?
We do not have a straightforward approach to fixing this issue in Messenger as we cannot find the specific reason. You have nothing to worry as you can always try a few options, and we are sure one of it may be the reliever.
As Facebook is the main application connected to the Messenger app, we can suggest the below methods for you to try.
 You can update the Facebook messenger app 

and see if it works, as sometimes updating regularly is the best solution to keep in touch with all the app modifications.

 Make sure if the recipient has blocked you on Facebook

. If you are a blocked user, you will not get access to the person you intend to keep in touch with.

Check and verify that you haven't blocked the person by mistake

Get confirmed if the recipient's account was deactivated or deleted

.

 Check your Facebook memories 

to make sure the connection between the person you are looking for and you are stable.

 Check your internet connection 

is up and running smoothly.

 switch to Facebook web 

and try sending a few messages.

 Sometimes, changing to Facebook lite 

works.
So dear readers, we assume that this article covered most of the critical areas to help you fix the issue. Sometimes these applications start acting weirdly due to software issues or bugs and other technical defaults. So, we hope the provided guidance will help you out with a solution!
ALSO READ: Message+ keeps stopping – How to fix it?